Introduction:

We're thrilled to announce that IDS Consulting is all set to be the Data Management Partner at DevTalks Cluj on September 27th, 2023! Held at Innovation Park in Cluj, this event promises to be a gathering of tech enthusiasts, innovators, and visionaries from all around.
Empowering You in the Tech World:
At IDS, we're all about helping you Stand Out from the Crowd, and that's exactly what we plan to do at DevTalks. Our team of experts will be on hand to empower you with knowledge and expertise in various aspects of data management, from data warehousing to analytics and cloud solutions. We understand the competitive landscape of the tech world, and we're here to give you the edge you need to shine brighter.
Goodies Galore:
To sweeten the deal, we have some incredible goodies prepared just for you. Make sure to swing by our booth to get your hands on some fantastic swag that showcases our commitment to data excellence.
Fueling Your Focus:
Keeping your energy and focus at their peak is crucial during a tech event. That's why we've partnered with Sloane Coffee, known for their exceptional brews. They'll be serving up some of the finest coffee to keep you energized and sharp during the panels. You won't want to miss it! ☕
A Challenge Awaits:
Are you up for a challenge? We've prepared a thrilling quiz designed to test your logical skills. Head over to our booth, take the quiz, and if you pass, you'll be automatically entered into a draw for a 100€ voucher at any retailer. That's right; your smarts could earn you a fantastic reward. Don't miss this opportunity to showcase your skills! 💯
Meet Us at our Booth:
We invite you to visit our booth at DevTalks Cluj and embark on an incredible journey with us. We can't wait to meet you, share our expertise in data management, and help you Stand Out from the Crowd. Be part of the data revolution and see you there! 🎁👏
Main Stage Presentation:
But wait, there's more! Our experts, Alina Giurescu and Alexandra Georgescu, will be taking the main stage at DevTalks Cluj on September 27th, starting from 15:00! 🌟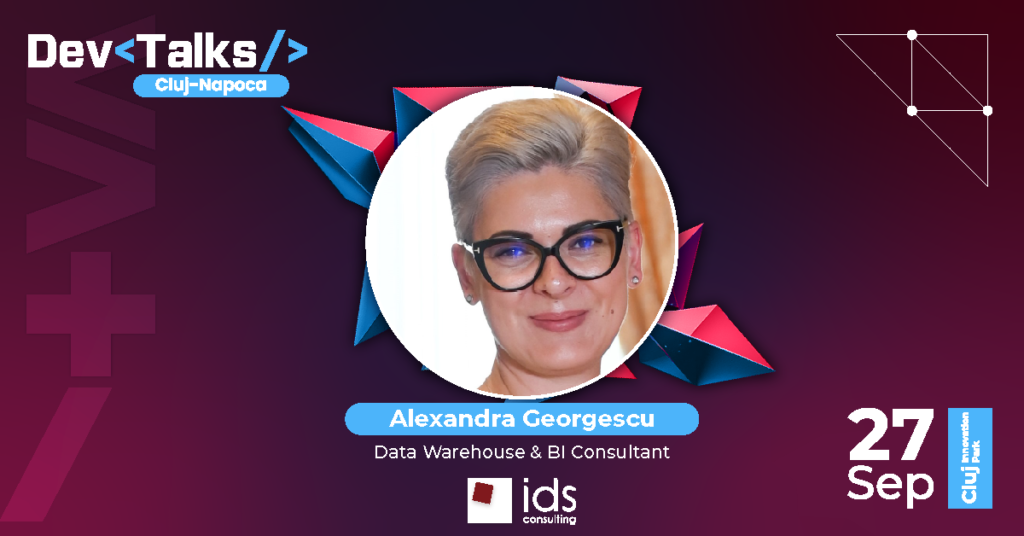 During their presentation, they'll delve into the world of "Building a Successful Data Warehouse: Practice Makes Perfect." Their expertise in data management and warehousing will provide you with invaluable tips to elevate your data strategies to the next level. This is a session you won't want to miss!
Curious? Here is the abstract of the presentation:
The significance of data in modern work environments cannot be overstated.  
From the moment a car engine starts, a payment to a merchant is initiated, something is searched online or a customer applies for a loan, data is generated and must be effectively managed. From the beginnings of data awareness until nowadays, technology evolved and together with it, enterprise architectures increased in complexity. As a result, the manipulation of increasingly large volumes of diverse data became mandatory. Data grew into one of the most important assets of a company and the need of a Data Warehouse emerged regardless the industry the company operates in. However, the evolution of technology has led to the emergence of new platforms and architectures in the data management field. These include Cloud-based solutions, real-time data processing, self-service data analytics, data lakes, data lakehouses, data mesh and other cutting-edge technologies. Despite these trends, there are timeless DOs and DON'Ts that we have learned from our experience in implementing Data Warehouses over the past decade. These lessons will continue to apply for years to come. In this session, we will explore these key lessons learned on different dimensions such as: requirements collection, implementation methodology (phased vs big bang), data model, data integration in a source agnostic layer, golden data sources, data quality and so on. 
Mark your calendars, and get ready to unlock the power of data with IDS Consulting at DevTalks Cluj 2023. We'll see you there! 🚀📊