The data warehouse is the key behind a competent Business Intelligence system. This is the place to store and organize your data so business users can access and query it to help the company move in the right direction. This easy access to complicated data enables effective business analysis and business forecasting, which in turn provides great insight on various trends and supports in faster and better decision making.
Source for BI systems
BI systems can you a as a source various systems, depending of the business context, systems or need.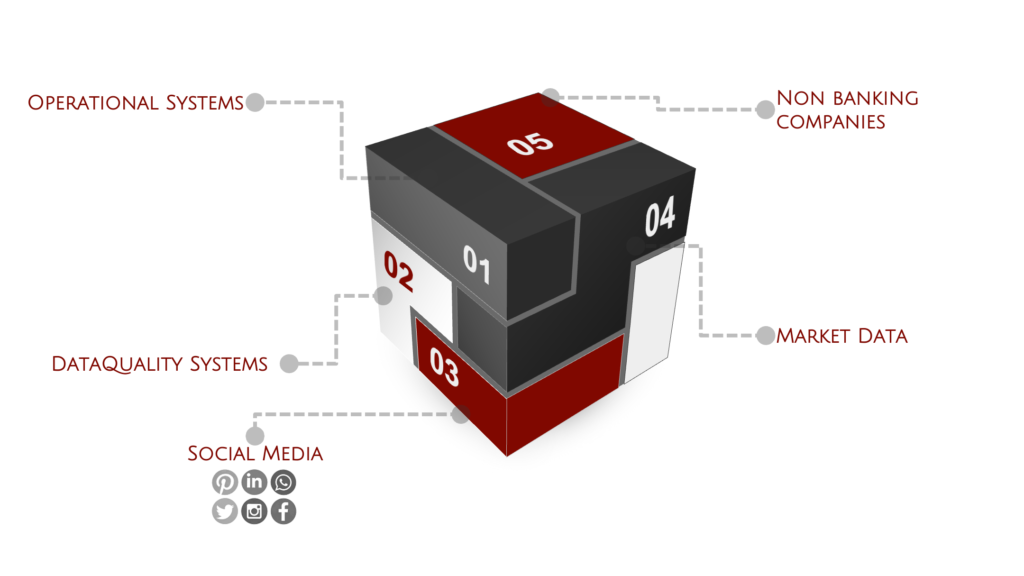 1. Operational Systems
Core Banking
CRM
Transaction Systems
Call Center
ERP
Loan Approval
Collateral Management
RDM
Campaign Management
2. DataQuality Systems
3. Social Media
4. Market Data
FX evolution
Trading
Prices
Market shares
Demographics
Ratings
5. Non banking companies
Group Companies
Telco data – statistics
Energy companies
Statistics institutes
Customer DB
Addresses
Typical BI consumers
The typical customers that consume BI data are most of the times internal teams which require reports and analysis of the real time picture of the business. Next, you will need to have a BI solution for your customers, to retrieve various reports on their dashboards. A hot topic represents the requests that official organizations would require from time to time, depending on regulations, or other special requests – police, auditors, ANAF, BNR (including their systems).
Key Capabilities of the Enterprise Data Warehouse
Data Modeling: Customized, business-specific solutions that create effective data models, designed to understand the data gathered by the systems.
Data Mart Development: data mart design and development help organizations across a variety of industries collate and store discrete data on a single platform, enabling effective analyses and informed business decisions.
Data Integration: Build an information-enabled enterprise by transforming data into a key decision driver, using ETL and ETL data transformation tools.
Information Delivery: Place data in the hands of an organization's workers in a form-factor (mobile, PDF report, Excel etc.) that ensures action is taken on the information at the right time. Provide a single access point for aggregated information via an easy-to-use Web-based interface.
Maintenance Operations, Support & Upgrades: Large-scale migration and upgrade services using methodologies specific to business intelligence projects, whether upgrading to a newer version of your existing tools and applications, or making a platform, or re-engineering decision for the overall BI architecture.